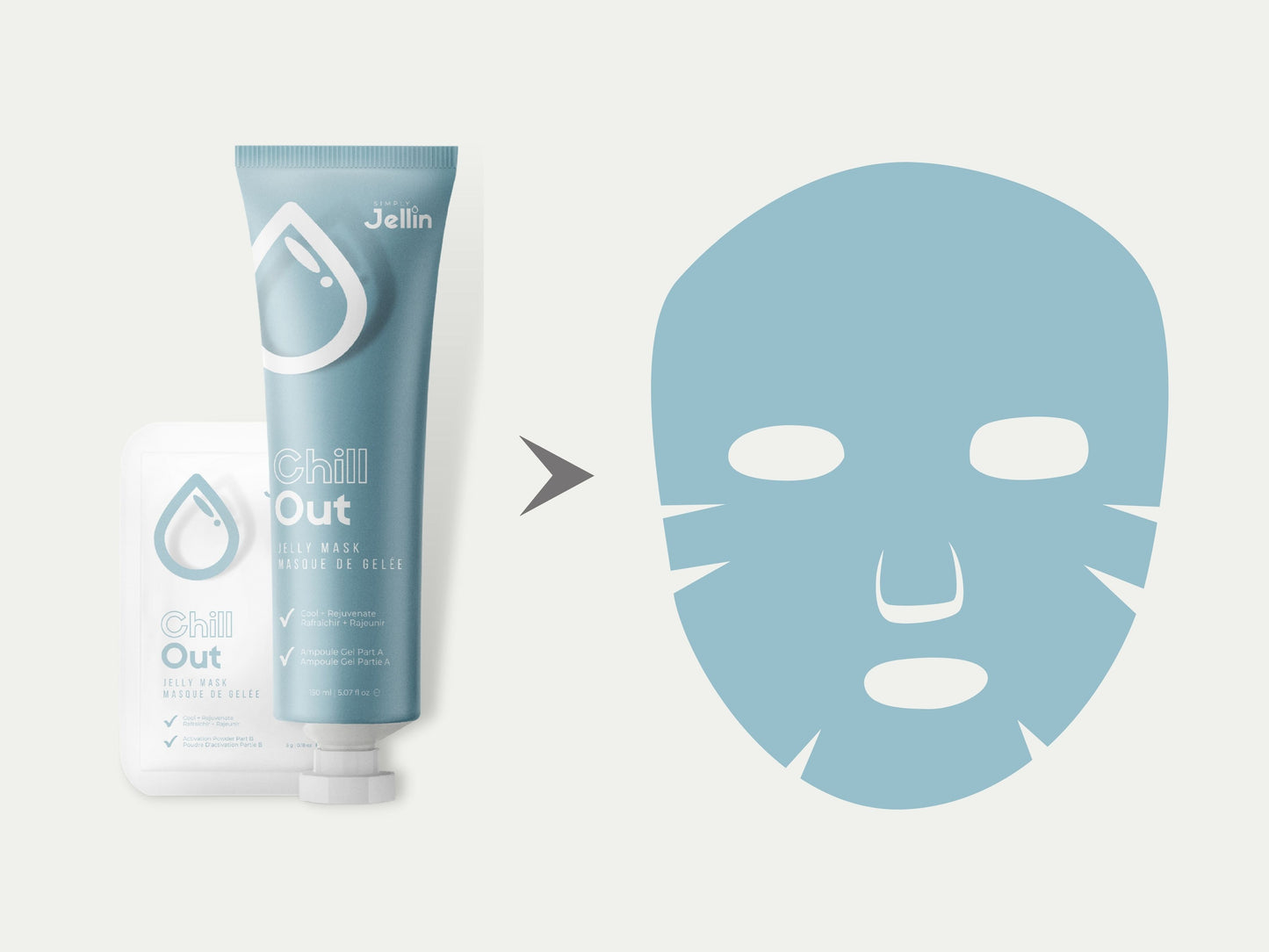 Jelly Masks v. Sheet: The pros, cons and perks of today's popular skincare protocols
It's no secret we love a jelly mask around here. (You might have heard that we even invented our own super-convenient waterless formula for jelly masking on-the-go.) The perks of using a jelly mask are numerous for supporting the skin with active ingredients, calming, hydration and a host of other beauty benefits.
Despite this, a question many people are asking is, how do jelly masks stack up compared to other popular masking treatments? In particular, you might be wondering which is better - sheet masks or jelly masks? So to help you break it down, here's the scoop.
What makes jelly masks special?
Flawless formulation - For effective and easy skincare, it doesn't get much better than our innovative jelly mask method. While typical sheet masks are targeted only to specific concerns and conditions, jelly masks provide a more comprehensive solution. Simply Jellin masks are pre-measured, require no added water and have a vitamin-enriched ampoule already built-in. In other words, you get everything your skin needs in one simple package.
Endless options for application - Did you know that Simply Jellin's masks aren't just for the face? It's true! With the ability to use only as much product as you need and apply anywhere, our masks can be used elsewhere on the body to treat sensitive skin and small areas such as the underarms and even the bikini area. They make an excellent post-wax protocol for skin soothing and smoothing. And you can't do that, with a sheet mask.
Less waste, more sustainability - Before jelly masks, sheet masks became beloved as a quick option that requires little clean-up. However, because sheet masks are typically single-use, the sheets and packaging are disposed of once removed. While it may not seem like much, this can add up to a lot of extra waste. Jelly masks, on the other hand, eliminate much of this waste because what you see is what you get. Our masks are all ingredient-based and don't require as much packaging to produce.
What are the benefits of a jelly mask?
Support for all skin - For addressing your skin's unique needs, Simply Jellin has options for every skin type. Our high-performance masking options include Chill Out for cooling sensitive or irritated skin as well as supporting rejuvenation for dull or aging skin. For acne, oily, or combination skin, you will love our Clean Slate mask to promote balance and care for a struggling complexion.
Infusion of active ingredients - Another major benefit of jelly masks is their ability to deeply infuse ingredients into the skin. Unlike sheet masks, which work by saturating the surface of the skin with serum, jelly masks have just a bit more weight to them, meaning the product is able to better penetrate the pores. At Simply Jellin, we pack our formulas with super ingredients - including aloe vera, niacinamide, spirulina, centella asiatica, and more - so naturally, we love the way jelly masks promote quick absorption and better results.
So which is better?
At the end of the day, it all comes down to personal preference. But if we had to choose just one, the answer seems obvious. Jelly masks are hands-down a superior option due to their ability to tackle full-body skincare and support your glow factor. This key difference is the inspiration behind our brand, and we can't wait for you to experience the magic of Simply Jellin!