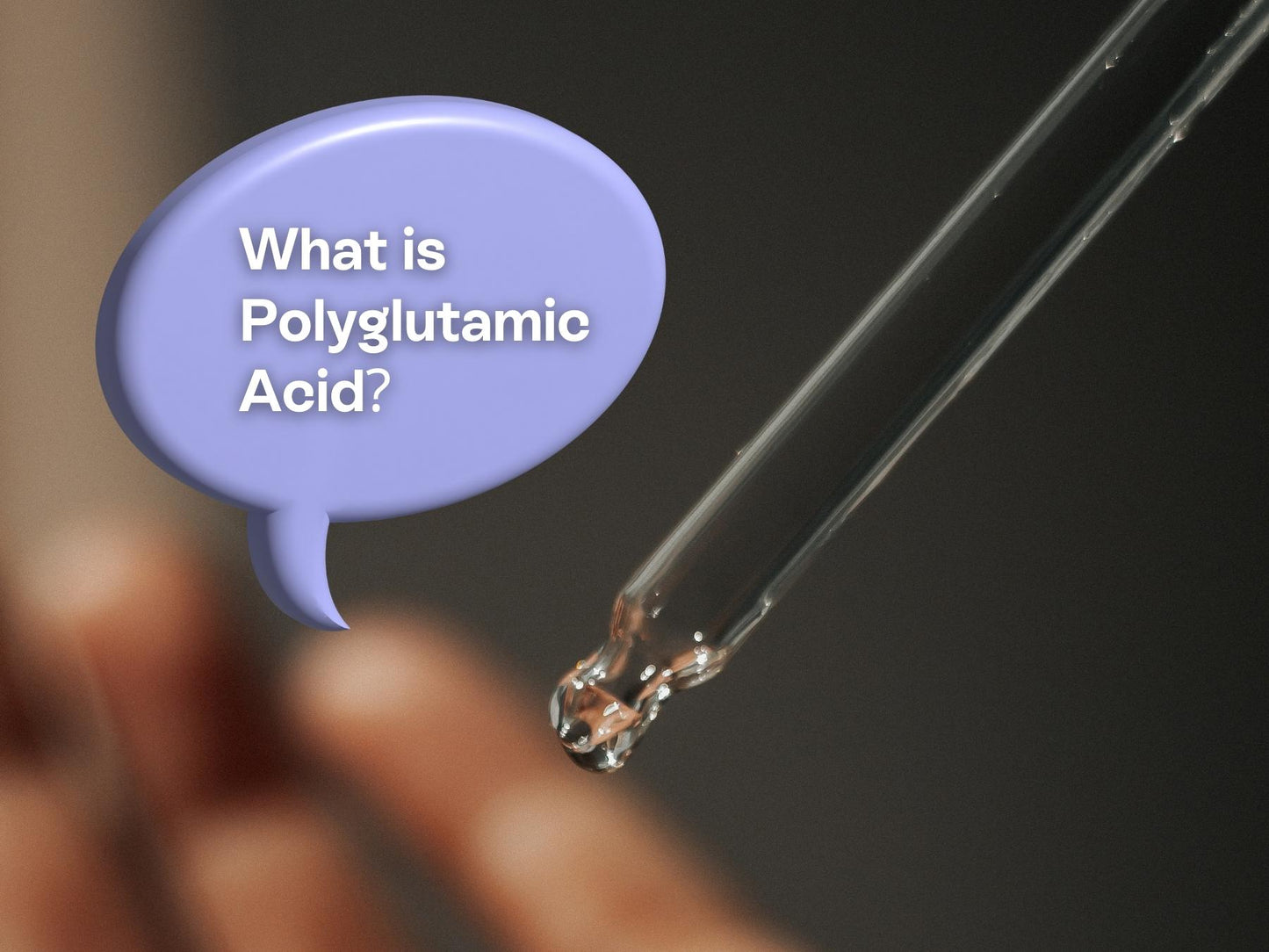 You may know and love certain popular skincare ingredients like hyaluronic, glycolic, and azelaic acids for their hydrating, exfoliating, and skin-firming properties. But are you familiar with polyglutamic acid?
Polyglutamic acid is also known as "PGA" (polyglutamic acid).
It is an amino acid obtained from natt, a food made from fermented soybeans!
This blog post details its main characteristics, benefits, what science says about its effectiveness and how it is used.
WHAT IS POLYGLUTAMIC ACID?
Polyglutamic acid is a humectant used to reduce moisture loss—derived from soybeans and is a powerful skincare ingredient, with 4 TIMES THE MOISTURIZING POWER of hyaluronic acid.
To be more exact, it has been found to help keep the skin hydrated, as it can inhibit the production of hyaluronidase. This enzyme is what breaks down the body's natural hyaluronic acid, which affects the level of moisture.
Unlike hyaluronic acid, polyglutamic acid is made up of larger molecules that help form a water-retaining film on the skin when used in skincare, preventing water loss and helping to retain hydration.
WHAT IS POLYGLUTAMIC ACID USED FOR?
It is a powerful moisturizer similar to hyaluronic acid used in skincare products.
The royal compound has been around for over 80 years, but it has become a trend lately. 
Polyglutamic acid is used to keep the skin hydrated and retain moisture. During the colder seasons, it replaces any moisture lost from the skin. (HELLO, as a Canadian brand, we love this for those frigid cold months!)
As for its uses, you can apply it to treat the skin, specifically in wound healing. It is also used in the field of nano-medicine. In addition, it has recently gained popularity in aesthetic skincare treatments.
We intend to feature polyglutamic acid in our masks! They are enriched with an array of powerful exfoliating and moisturizing ingredients, including polyglutamic acid.
The dual-action formula combines a perfectly balanced blend of acidic exfoliators with a hydrating blend of radiance-boosting ingredients to reduce the look of pores, exfoliate dead skin cells, and cover skin with INTENSE hydration.
And to the question of whether polyglutamic acid is good for the skin. The answer is a big yes!
BENEFITS OF POLYGLUTAMIC ACID.
Polyglutamic acid is a GREAT SOURCE OF HYDRATION, which is the main benefit for your skin. Polyglutamic acid provides four times more hydration than hyaluronic acid and 10x when you combine them!
In addition to reducing dryness and helping to tighten the skin, polyglutamic acid can also act as a moisture filter, reducing the appearance of fine lines and wrinkles for a rejuvenated-looking complexion.
It has almost no reported allergens or hypersensitivities. 
It helps in the Illumination and conservation of the shine of the skin and Increases elasticity.
polyglutamic acid does not interfere with other ingredients or treatments that are being used as part of the beauty routine. On the contrary, it can be effectively combined with some compounds, such as topical vitamin C, without generating negative reactions.
How Is Polyglutamic Acid Used?
Polyglutamic acid is commercially available in various forms. It can come in cream or serum. In both cases, it is only for topical use. For now, there are no injectables or other presentations. On the other hand, it is achieved in compounds in which it is combined with other substances, such as vitamin C, lysine, various amino acids or hyaluronic acid. 
As for its application, if you are using any other skincare product, it is convenient to use it last. You can use it in the morning and at night. In addition to this, we recommend you clean and rinse the area to be treated.
As we mentioned earlier, it is not known to have side effects, but consult a dermatologist if it causes any irritation.